By Erin Durkin, National Journal, January 21 2021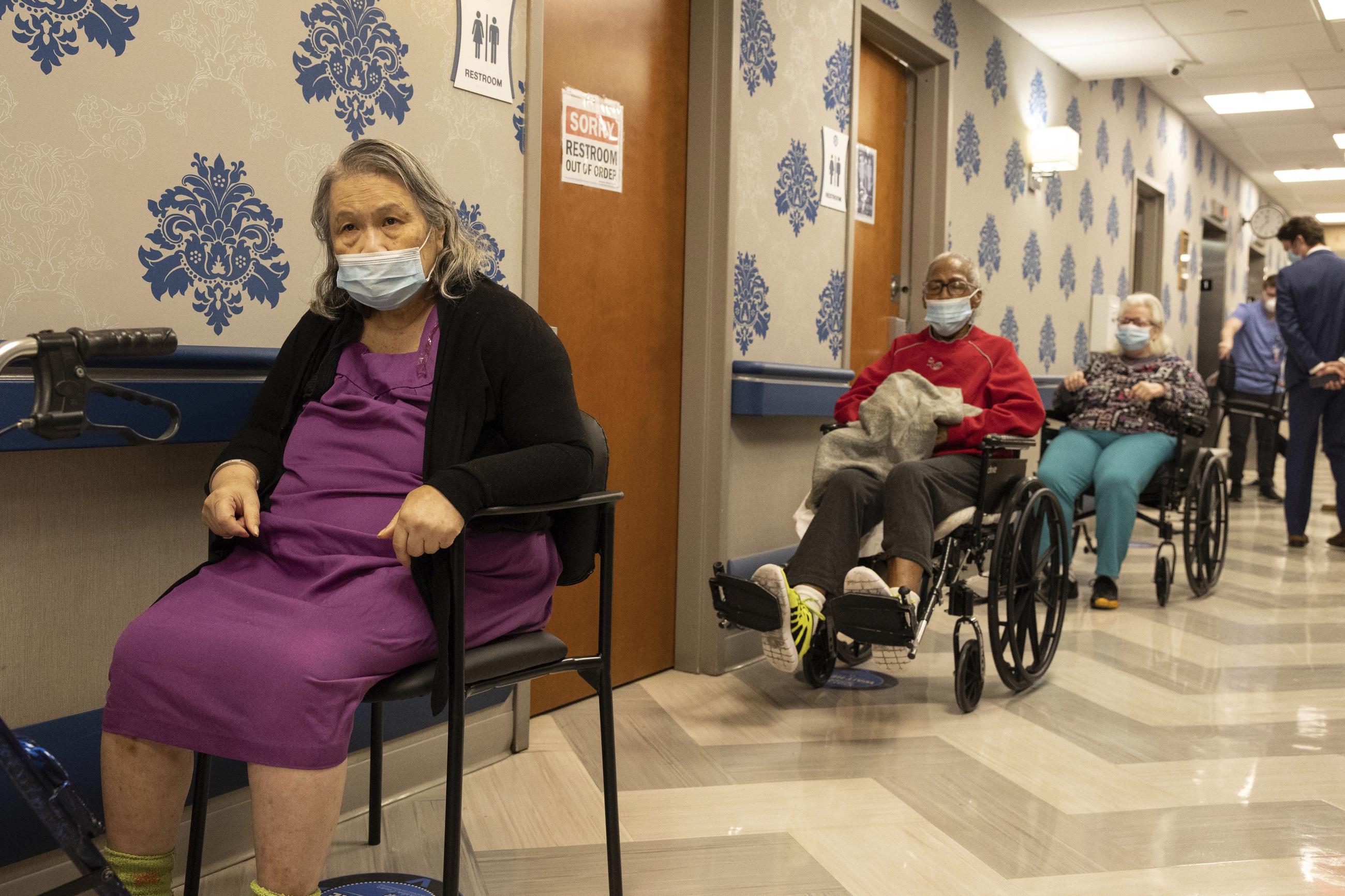 State and local health officials have been trying to get staff and residents of long-term-care facilities vaccinated rapidly to avoid more deadly outbreaks within nursing homes and other care settings.
But the effort has been frustrated by the lack of federal guidance in the first weeks of the vaccine rollout. Confusion over vaccine supply and who is in charge of distribution have plagued the process, advocates say.
"I think there's been some missteps with some lack of clarity with respect to who is supposed to be guiding or what instructions are to be followed," said Lori Smetanka, executive director of the National Consumer Voice for Quality Long-Term Care. Smetanka said she has also heard about issues with data sharing and determining the number of vaccines each facility needs.
"I think we've seen all along, in the previous administration's approach to the vaccine, that the federal approach has been lacking—not just the vaccine but in the response to COVID," she said. "It does seem that there should be a greater federal oversight of what steps need to be taken, creating the plan and then disseminating the plan, and making sure that it's being put into operation."
President Biden on his first full day in office Thursday laid out a national strategy for the COVID-19 response. The White House lists support for nursing homes and long-term-care facilities, including accelerated distribution of vaccines, as one of its goals.
Biden also signed an executive order ordering defense and health officials to provide "targeted surge assistance" to critical-care and long-term-care facilities, including nursing homes and assisted-living facilities.
"One of the huge problems at the outset, in California and across the country, has been how decentralized the vaccination push has been in long-term care," said Mike Dark, staff attorney at California Advocates for Nursing Home Reform.
"What that's caused is a kind of decentralization of decision making—a patchwork approach to getting vaccines out that varies across the state, county by county," Dark said. "And also, tragically, it relies a lot on counties which have been heavily impacted by the COVID downturn in terms of their financial resources. It also relies on facilities themselves to have enough staff, to have the capacity to do the outreach to the pharmaceutical companies to get the vaccines scheduled."
The COVID-19 pandemic has taken a devastating toll on the vulnerable populations in long-term-care facilities. As of Jan. 14, there were 140,374 deaths among long-term-care residents, accounting for 37 percent of the U.S. COVID-19 deaths, according to The COVID Tracking Project.
For the long-term-care facilities that are participating in the federal pharmacy partnership, which provides management of the COVID-19 vaccination process, 2,089,181 doses have been administered as of Jan. 21. Walgreens and CVS are participating in the partnership. The program is not required for vaccine distribution in long-term-care facilities.
While a lot of attention has been focused on nursing homes, experts pointed out that assisted-living facilities often have similarly vulnerable populations. But they may not be getting the vaccines at the same time as nursing homes.
Initial guidance from the Centers for Disease Control and Prevention's Advisory Committee on Immunization Practices had recommended both types of long-term care be in the top priority group for vaccine dissemination. But the committee added that, depending on supply, jurisdictions may consider giving skilled nursing facilities the vaccines first because of "high medical acuity and COVID-19–associated mortality."
Walgreens announced on Jan. 6 that it anticipates completing the administration of first doses in skilled nursing facilities by Jan. 25. "In accordance with CDC and state guidance, Walgreens provided COVID-19 vaccination clinics to skilled nursing facilities first and is expanding to assisted living and other types of facilities," the company said in a press release. "The company will continue to partner with states and jurisdictions to provide vaccinations to residents and staff at 35,000 long-term care facilities that are partnering with Walgreens."
The Centers for Disease Control and Prevention said national COVID-19 data is less readily available for assisted-living facilities because, unlike nursing homes, they don't have federal reporting requirements.
But a CDC report looking at data from 39 states showed that, by mid-October, 22 percent of 28,623 assisted-living facilities had at least one COVID-19 case and the fatality among cases was 21 percent for residents.
Many states took up the CDC's recommendations that both nursing homes and assisted living be included in the first phase, according to data from the Kaiser Family Foundation. But Dark said assisted-living facilities in California were having a difficult time scheduling vaccinations because they're not as large or as well connected to the state public-health system as nursing homes.
"What you have on the assisted-living side are these thousands of facilities across the state, often just people's houses out in the suburbs, and very frail people living there, very susceptible to the virus if they were to get sick," he said. "These are disproportionately the kind of people who will be taking the ICU beds during this surge, and so we have to get the assisted-living rollout right if we want to get a handle on the surge California is currently experiencing."
Dark said some residents in assisted living were told they had to arrange appointments themselves, and he pointed to a lack of guidance from the state. "We would get calls at CANHR from residents of assisted-living facilities, and again, these are often people who are cognitively impaired, people who have disabilities, and they're being told that they should figure out themselves how to get vaccinated," he said.
With states starting to open up the vaccine campaign to more priority groups, LeadingAge President and CEO Katie Smith Sloan said she is concerned about whether there will be enough supply to go around, particularly for assisted-living facilities.
"I know that assisted living—a lot of those clinics haven't been scheduled yet or are being scheduled clear out through March and April," Sloan said.
In the state of Minnesota, 64 percent of the deaths from COVID-19 have taken place in long-term-care facilities, according to The COVID Tracking Project. Although assisted-living facilities are included in the first phase of Minnesota's vaccine plan, they are considered second priority to nursing homes. Elder Voice Family Advocates Executive Director Kristine Sundberg said vaccine dissemination in the state has been slow-going.
"We're still waiting for completion of the nursing homes, the residents and staff, let alone moving into assisted living and then broader groups," Sundberg said, describing the supply of vaccines as "trickling in" from the federal government.
"You've got the frustration of the people who are waiting to get this, and some of them are dying before anything happens," she added.
Sundberg said she is hopeful the Biden administration will be able to get the vaccine rollout moving at a faster pace. "I've got a great deal of hope and faith that they have the wherewithal and the conviction to actually get this rolling out more quickly," she said. "Maybe part of it is our expectations were overinflated; I don't know. So my hope is that the Biden administration can really, and I believe they will, jump all over this and really open up the supply chain."