By Erin Durkin, National Journal, February 10 2021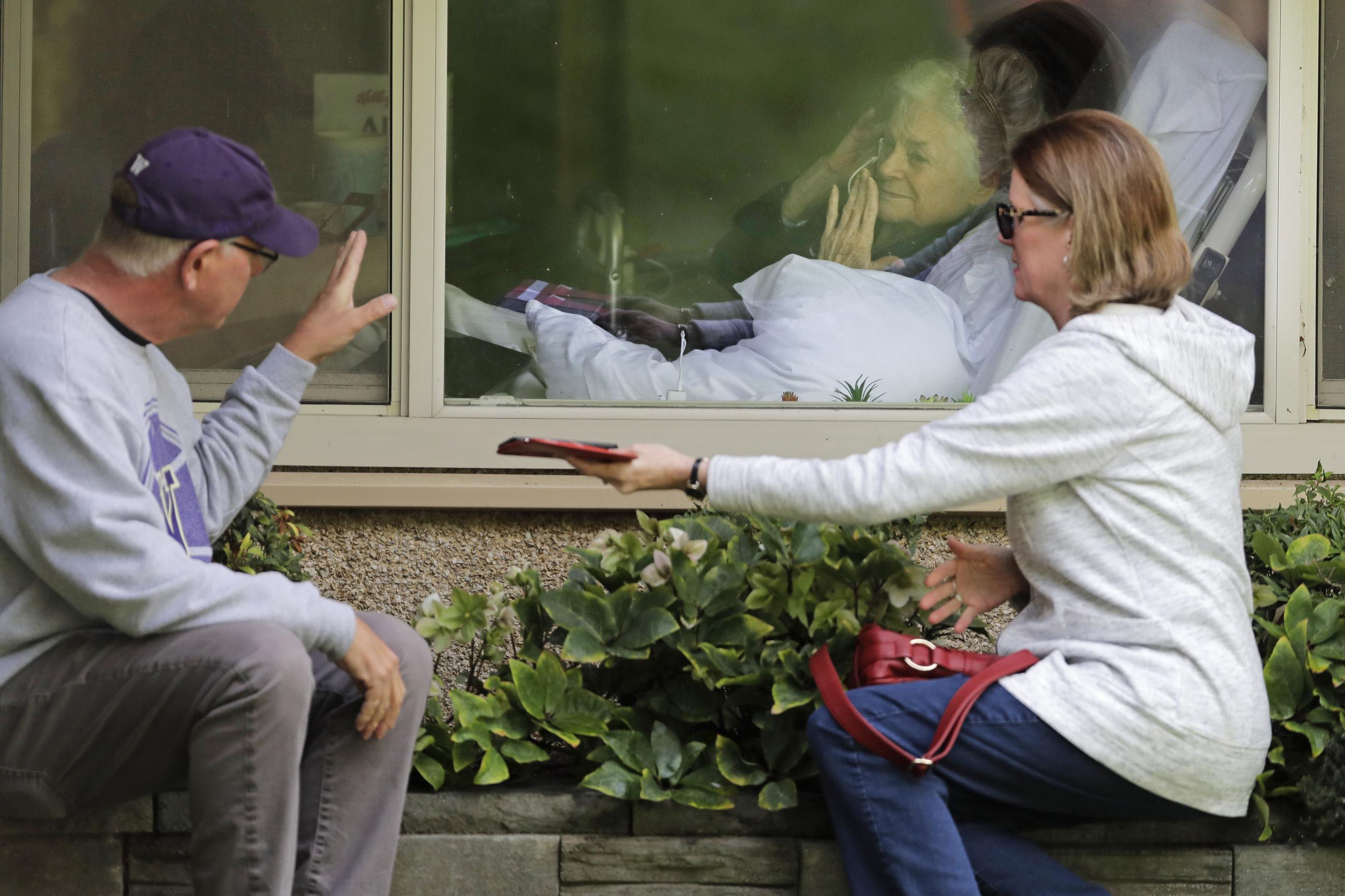 When the pandemic started its spread across the U.S., taking a massive deadly toll on nursing homes, the Centers for Medicare and Medicaid Services immediately directed facilities to restrict almost all visitors.
By the fall, the isolation had also taken a toll. The CMS released revised guidance in September acknowledging the physical and emotional impact on residents when they are not able to see family members.
The guidance allows for indoor visits provided there has not been a new onset of COVID-19 cases in the previous 14 days, visitors follow mitigation protocols like mask-wearing, and the number of visitors is limited. But the guidance also says that outdoor visitation is preferred and should be routinely allowed.
Advocacy groups of nursing-home residents and families are alleging, however, that facilities are unnecessarily blocking visitors, even after federal and state officials relaxed guidelines.
They claim that some facilities are adopting strict visitation requirements that go beyond the CMS guidelines, and they want more oversight from federal and state officials to ensure that nursing homes aren't needlessly keeping visitors out.
"Despite the fact that CMS loosened some of the guidance, a lot of discretion still lies with the facility and still is dependent on the outbreak levels at the county level," said Lori Smetanka, executive director of the National Consumer Voice for Quality Long-Term Care.
"So much of it is just arbitrary in terms of how it's being implemented," added Smetanka. "From our perspective, there are safe ways to let people back in. Really, the way we read CMS's guidance is that facilities should be doing everything they can to have safe visitation."
Groups that represent skilled-nursing facilities say nursing homes have to respond to community spread and health orders in their areas, which could result in more restrictions on visits.
The CMS says if the county where the facility is located has a high infection rate, indoor visitation should be limited to compassionate-care situations. This can include visits for residents who were recently admitted and are struggling with the change, are grieving the death of a family member or friend, or rely on family or caregivers to encourage eating or drinking.
The guidance also states that facilities cannot restrict visitation without a "reasonable clinical or safety cause." The CMS says, as an example, that a facility located in a county with low or medium positivity rate without any COVID-19 cases for 14 days must facilitate in-person visitation.
Teresa Palmer, a retired geriatrician, said being able to have in-person visitation with her 103-year-old mother at the San Francisco Campus for Jewish Living has been challenging. Palmer said she insists on virtual visits three times a week.
"Even when their COVID was under control and they were free of infections—the state guidelines are you can open up for indoor visitation if there's no infections for two weeks—and they didn't open up," she said. "And then they got a really bad outbreak."
Palmer said the facility had allowed for garden visitation, where she saw her mother through a window.
"It's behind a window and you have to scream at them over a cell phone," she said. "My mother keeps saying, well, why can't you come eat lunch with me, and why can't you come in, and why can't you—because she's at the point where she can't remember why she can't be with us. Do you know what I mean? And we have to repeat it over and over again, so it's just confusing for her."
The San Francisco Campus for Jewish Living has stopped visits except for those that are "necessary," according to their website. The facility says "necessary" visits are ones that are based on urgent health, legal, or other issues that cannot be delayed.
Marcus Young, a spokesperson for the facility, said they follow guidance from CMS, California, and San Francisco.
"[B]ased on the vulnerability of our population we follow the most stringent of these guidelines," said Young in an email to National Journal. "For the past two months, San Francisco in general has been in the Purple Category, which means that we are not allowing indoor visits even though we have the virus under control at the facility and we are close to 100% vaccination rate for the entire campus (staff, residents and patients.)"
The California guidelines say facilities in counties with lower case rates and testing positivity–Tier 2, which is red; Tier 3, orange; and Tier 4, yellow–can have indoor visitation. The purple category, Tier 1, is the highest-risk tier. San Francisco was still considered to be Tier 1 as of Feb. 2, according to the California Department of Public Health.
"You specifically mention CMS guidelines, but again we are instructed to adhere to the most stringent guidelines in an effort to implement most comprehensive safety protocols," Young said. "We do not follow the more lax requirements for our facility as we are asked to follow the most strict of the guidelines—even if this poses some inconvenience."
He said the San Francisco Campus for Jewish Living is accommodating compassionate-care and legal visits and is allowing outdoor and window visits as long as the resident's unit is free of COVID-19 cases.
Health orders from the San Francisco Department of Public Health allow for outdoor visits, vehicle visits with opened windows, and facility window visits with opened windows if there hasn't been a new COVID-19 case in the previous 14 days. If there are new cases, then vehicle and window visitations can occur with windows closed.
The department leaves the determination of a "necessary" visit to the facility's judgement. The SFDPH did not respond to National Journal's request for comment.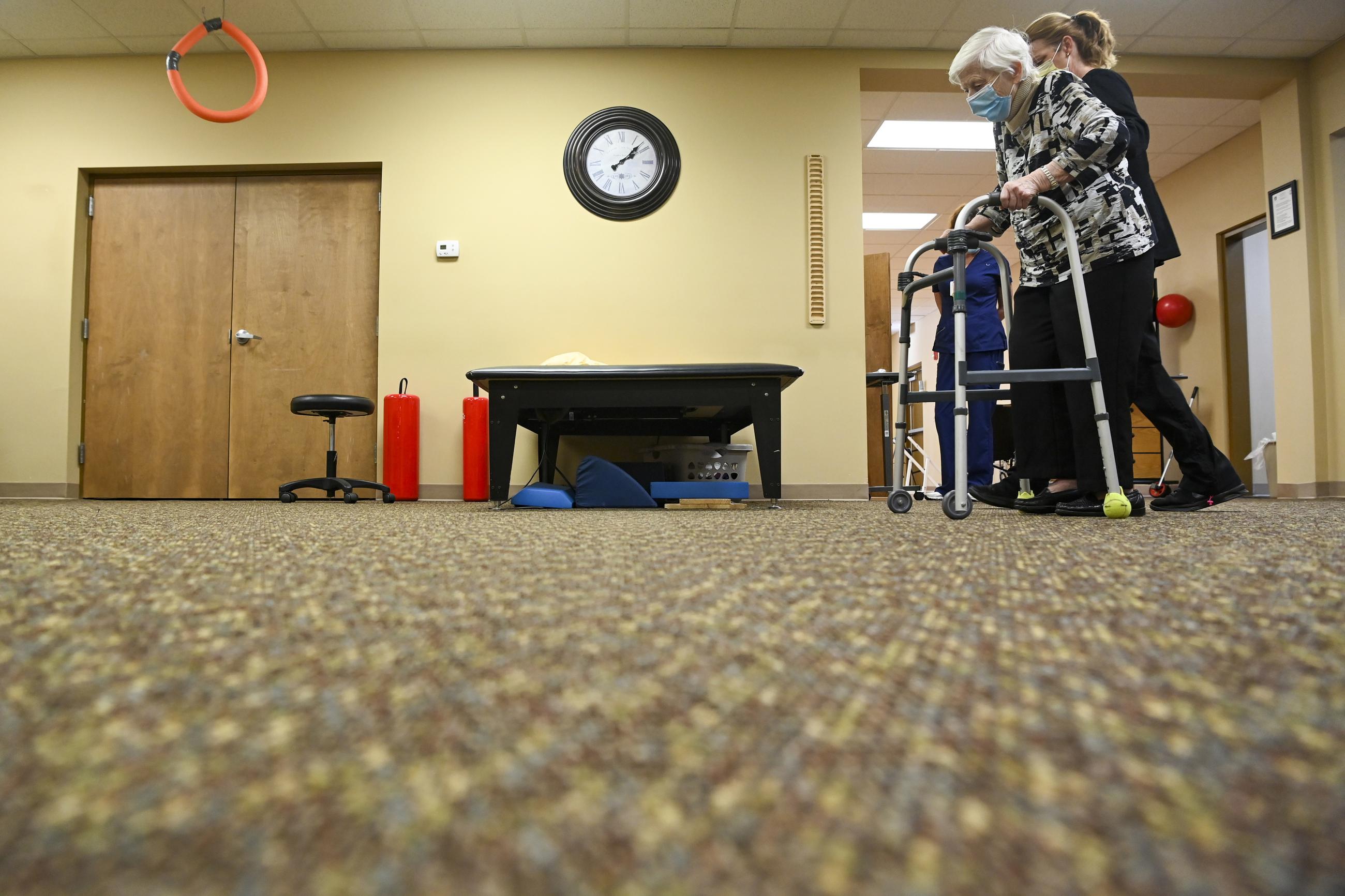 Mike Dark, staff attorney at the California Advocates for Nursing Home Reform, said the state guidance in California reflected loosened visitation restrictions after the detrimental impacts of nursing-home lockdowns became apparent. But he said state regulators haven't shown interest in heavily enforcing these guidelines from county to county.
"If a county department of public health persists in maintaining the very strict guidelines, stricter than the state guidelines, the state will not disturb them even if they put residents' lives in peril," he said. "The same sort of problems with patchwork and incoherent strategies to testing, for example, that we saw, are also true with issues like visitation, where you have conflicting authorities."
The California Department of Public Health said both it and the CMS have directives in place for safe outdoor visitation. "However, local public health departments may have stricter health orders in place," said the department's communications office in an email.
Having the CMS provide more oversight could help, according to Dark. "What we would love to see is CMS work more closely with state authorities to ensure that appropriate visitation does take place," said Dark. "Simply offering guidance rather than mandates doesn't do the job."
DeAnn Walters, director of clinical affairs and quality improvement at the California Association of Health Facilities, said each county and city is responding to the COVID-19 threat within their community and have their own health orders, which can cause visitation restrictions to look very different. The group represents more than 900 skilled-nursing facilities.
"Each area is responsive to what's happening around them and so the facility, obviously directly affected by the community spread, also [is] following those orders," she said. "They can be very different, so it's not necessarily that it's just arbitrarily being followed, it's just that there are many different levels to it."
Care Providers of Minnesota President Patti Cullen said allowing visits has been challenging because of large increases in COVID-19 cases. "It hasn't been until actually quite recently in our state that we've been able to have visitation," said Cullen. "We had big spikes in community spread and in outbreaks in our buildings, so there was a challenge when you had big community spread with being able to have visitation."
Minnesota is encouraging long-term-care facilities to allow for visits from "essential caregivers," who assist with daily activities for the resident, and the state is considering them a type of compassionate-care visit. Essential caregivers often advocate for the resident, provide emotional support, and promote their quality of life. Allowing essential caregivers is not required for facilities.
Kristine Sundberg, executive director of Elder Voice Family Advocates in Minnesota, said direct orders from the federal government would help clarify some of the problems around visitations.
"I think personally, because we see such a wide range of interpretation of the guidance, I would like to see mandates on some of these key issues, because we have too many facilities who disregard guidance because they can," she said.
Some advocates and experts think it's time for federal officials to begin considering opening nursing homes up even more, now that vaccines have started rolling out to these settings.
"We have called on CMS to relook at their visitation guidance and to make changes that would require facilities to put into place visitation practices that will allow more open visitation for families and residents," said Smetanka. "But there also has to be coordination at the state and the local levels. We definitely understand that the spread in a community is a factor in the policies that need to be put into place, but it shouldn't be the only factor that's put into place."
A California Association of Long Term Care Medicine expert panel recommended that facilities with sufficient staffing, PPE, and space resume indoor visits for fully vaccinated residents for the six months after they received their shots. Michael Wasserman, the immediate past president of the association, explained that the guidance was only good for six months right now because it is unclear beyond that point whether people will need a booster shot.
"Once you've vaccinated a facility, particularly vaccinated the residents, there's really no reason you cannot allow visitors," he said.
Wasserman added that after a resident is vaccinated, it's not worth putting them through social isolation given the related health risks. "I'll tell you, the thing that was nearest and dearest to my heart that unanimously our group voted on was [that] visitation for these vaccinated residents should include hugging and holding hands," he said.
The CMS told National Journal on Feb. 2 that it is actively working with the Centers for Disease Control and Prevention to determine how visitation can be safely increased in light of the vaccine.
For now, Dark said he would like to see California's current guidance enforced. "The problem is we can ask the state to prepare new guidance, but we will face the same sort of brick wall," he said. "Which is without enforcement, and especially without corralling counties, who are imposing very different measures, we're not going to make any headway in ensuring that vulnerable residents get the visitation that they need to live."